Some works on display are for sale.
Some originals are available as well as Limited Edition hand signed prints in negotiable sizes and priced appropriate to size.
Please feel free to enquire.
Merchandise including greeting cards and T-Shirts featuring the work of Andrew J Pearson are available at
Andrew J Pearson is represented by
and online at
Enquiries regarding commissioned works are welcome.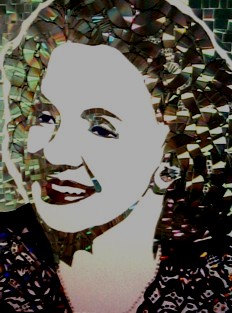 ''Helen''. Compact disk fragments and enamel on canvas. 2016
Commissioned work